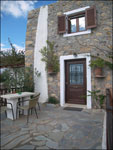 Hiona Cottage
is a unique little house, idyllically placed at the water's edge, overlooking the peaceful beach of Hiona at the extreme end of eastern Crete.
Hiona Beach is an area with special interest in archaeology, where building is not allowed. Only the house and three fish taverns exist here, that one of them is just next to the house.
Hiona Cottage is a renovated very old house from rock with two floors, where can sleep up to 6 persons. As we enter there is a living room with kitchen facilities and a dining table.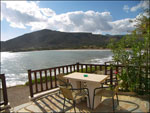 Deeper there is a bedroom, which looks at the back side of the house at Kastri Hill. A narrow spiral staircase leads to the upper floor, where is the W/C/shower, a room with two normal size bunk beds and a bedroom with a double bed and view to the sea.
Please apply at the Hotel Marina Village for a reservation.